My Story
---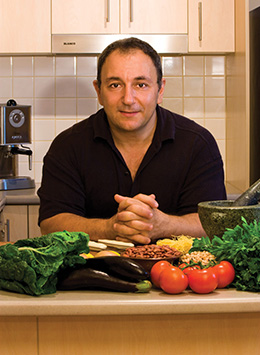 Born and raised in Africa from Lebanese parents, I belong to a heritage and culture where food is celebrated. Food is seen as an integral part of life, a means of bonding with family and friends. I was always interested in food from a very young age and inspired by my mother and sister I started cooking as a teenager. Over the years cooking for my close friends and holding many dinner parties I have taught myself to cook and have learnt our family recipes we shared growing up. My father was a good gardener and grew many vegetables, fruits and herbs in our backyard, which has taught me the importance of good quality fresh ingredients.
…food is celebrated as an integral part of life as a means of bonding with family and friends.
My mother never used anything out of a tin, except for, ghee and tomato paste. At times, she would make her own tomato paste and even vinegar. She would always make her own yogurt, cottage cheese, pickle her own vegetables and olives, pick her own grape vine leaves and bake all her cakes and sweets. I have adopted the same attitude in my cooking; always use the freshest ingredients, right down to dried legumes and pulses.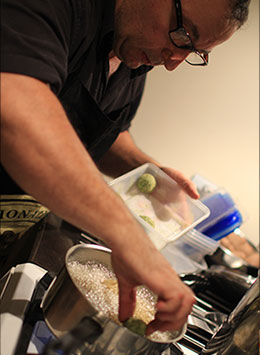 With over thirty years of cooking and entertaining I have gained knowledge of various cooking styles, flavours, spices and ingredients from many different cultures. I am fascinated by the history of ingredients and food where they originated and how they have travelled around the world. This knowledge and understanding helps me in my cooking to produce excellent quality and satisfying meals.
The secret is never take short cuts…
The secret is never take short cuts, and always allow plenty of time to make it the correct way, even if it is the long way. Always taste your food, use your nose and consider the pallet of your guests. Lebanese food is especially prep heavy and involves lots of time and preparation, but worth it in the end.
As a celebration of my culture and its food I have released an award winning cookbook dedicated to the food I grew up. The cook book includes recipes using fresh and easily accessible ingredients, meats, herbs and spices and is called 'Lebanon to Ghana, the food I grew up with'. Available online and through major bookstores.
Through the 'Lebanese Feast' I bring the same dining experience to your own home.
---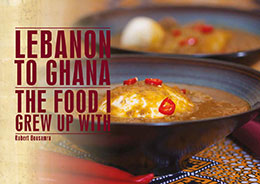 If you would like to purchase a copy of Roberts book 'Lebanon to Ghana The Food I Grew Up With', you can do so by clicking on the link below.
Purchase Book

Share