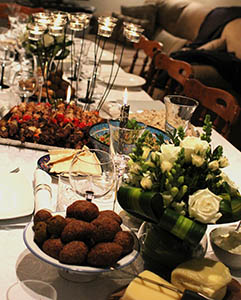 What We do
We provide…
An in-house dinner party chef at your home
We help you select a suitable menu
We bring all the ingredients to your kitchen
Tell you what kitchen items we need
We prepare and cook the food in your kitchen
We lay out a banquet style feast for your guests
Thank you for your enquiry. It is a pleasure for the "Dinner Party Chef' to provide you with information on our services.
Please complete the form and provide as much information as you may have; such as the date of your booking, the amount of guests, address and contact telephone number. If you have looked at our menu options, please provide the selections you have made. Please allow three weeks lead time before your booking date. Shorter lead times may be available on enquiry
Once we receive your enquiry we will respond via email and arrange more information to be sent to you and organise a time to call you. Lebanese Feast prides itself on offering a unique and unforgettable dinning experience; we look forward to the opportunity to cook for your event.
Testimonials
---
"What a recipe for a great night – restaurant quality food served in the comfort of the home. Thank you Robert!" Leanne
---
"Many many thanks to you Robert for your excellent feast! It all turned out exactly as I would have wished for my 60th celebration! Many of my friends asked "where did you find that man?!" and all the comments were extremely positive." I appreciate the freshness and quality of the ingredients and the fact that everything was cooked immediately before eating. Avril O'Brien
---
"We would like to thank you for the wonderful dinner that you cooked for us and our guests to celebrate our wedding anniversary. The food was wonderful, well presented and tasted as good as it looked. The okra bean and lamb was our favourite and the rolled grape vine leaves were good too. Our ten guests loved the whole experience – from the new flavours and methods of cooking to the beautiful serving ware. For us it was great to hand over all the effort of preparing dinner to someone else. We would like to thank you for your professionalism and care whilst in our home and kitchen. We are happy to recommend Lebanese Feast. Susan and Brian Doel