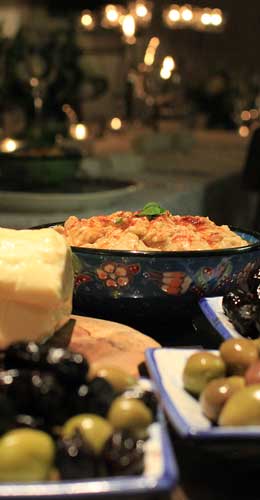 The 'Lebanese Feast'
Lebanese dining is based on traditions of Middle Eastern hospitality that date back centuries. If a stranger where to call upon your door, it is obligatory and courteous to be hospitable, as the proverb below tells.
"The mistreatment of strangers is a sure way to incur divine wrath"
Traditionally when a guest arrives at your door, they are welcomed into your house and offered refreshments, such as drinks, sweets and savoury snacks. The dinner can be either a main course consisting of a single dish, or mezza, a variety of small dishes, followed by a selection of seasonal fruits to freshen the pallet.
After the main meal guests are ushered into the living room to relax talk, mingle and have after dinner drinks. Lebanese coffee with a selection of filo pastries, cakes and biscuits are served around an hour as the end of the dinner but not the night.
The Lebanese Feast option, offers foodies the experience of a traditional Lebanese dinner in the comfort of their own home. This includes traditional Lebanese food cooked and served Lebanese style in your own home. Lebanese dining differs from traditional European and western dining by not having a formal entrées and dessert but provides the various options shown below.
Please be aware that this is a traditional Mediterranean diet that contains wheat, nuts, eggs, dairy, sugar, animal meats and fats. We do not use seed oils but can do so on your request. We deep fry using traditional methods but if you require the use of seed oil (for vegetarian or other reasons) we can accommodate your request.
Options Available
The dinner service offers the option to select your dishes, the style of service and the number of guest. There are two styles of dinner service, 'the main course' and 'mezza' (the feast).
Snacks
Snacks which include a combination of roasted nuts and seeds are served with drinks early in the evening when guests arrive.
Starters
Starters are not entrées in the western sense, but include small servings of condiments, such as olives, pickles, cheeses, yoghurt, dips and flatbread, which are presented on the table for guests to snack on before the main meal arrives.
Main Course
The main course is the centre piece of the dining experience. The dish is shared by all and is customary to be served by the host. The meal is not plated up prior to serving.
Mezza
Mezza is a less formal style of dining where you have the option to select five different items from the mezza menu. These can be served at a dining table setting or an informal buffet style setting.
Seasonal Fruits
Following the main course or mezza, instead of desert, it is customary to serve seasonal fruits, such as fresh figs, stone fruit, melons, dates, apples and grapes instead of a western style dessert. A tray of seasonal fruit is an option which can be added to the main course or mezza selection.
Coffee and Sweets
Lebanese coffee is a strong dark short brewed coffee, served sweetened or unsweetened in the cup (similar to Greek and Turkish coffee). This is served with a platter of filo pastries produced by the finest Lebanese bakeries, or fresh baked cakes and biscuits. Traditionally coffee is not served at the dinner table but in the comfort of the living room. Please discuss the timing and arrangement for this option.
Please note that all the above options are provide for you to select and design your dinner.